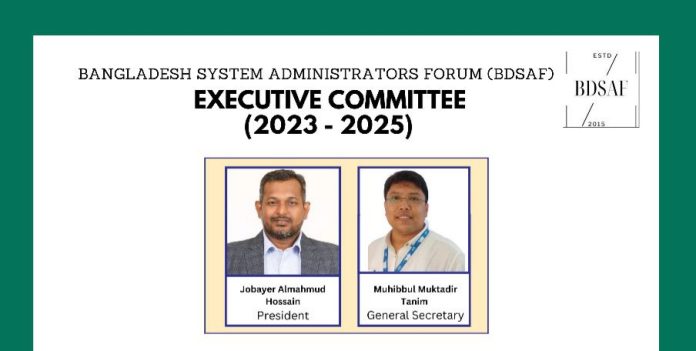 TV24 Desk: On August 10th, Bangladesh System Administrators Forum (BDSAF) marked a significant milestone with the formation of its new Executive Committee (EC) at Amana Food Ville, Mohakhali. The event was graced by prominent IT Professional and BDSAF Advisor, Mr. Shaerul Hoque Joarder, who led the oath ceremony for the newly inducted EC members.
Mr. Jobayer Almahmud Hossain has taken on the role of President, and Mr. Muhibbul Muktadir Tanim assumes the position of General Secretary, both elected to drive BDSAF's vision forward.
The ceremony also saw the presence of Mr. Rakibul Hasan, CTO of Link3, amidst the backdrop of Amana Food Ville, Mohakhali, Dhaka.
The newly introduced BDSAF Executive Committee (2023-2025) features seventeen dedicated members, each contributing a unique perspective to the organization:
President, Jobayer Almahmud Hossain, General Secretary: Muhibbul Muktadir Tanim, Vice President, Mizanur Rahman,  Joint Secretary, Mohammad Ashfaqur Rahman, Finance Secretary: Shankar Nandy, Organizing Secretary, Mohammed Salahuddin Rony, PR and Outreach Secretary, S M Didarul Abedin, Member Growth Secretary, Md. Saifur Rahman, Skill Growth Secretary, Amir Hossain, Web Platform Secretary, Md. Mijanur Rahman Legal Secretary, Rubayet Bin Modasser,  Innovation Strategy Secretary, Raskin Paul
,Global Relations Secretary, Md. Mahedi Hasan, Partnerships Secretary, MD. AL Emran,  Social Welfare Secretary, Dilip Kumar Dhar
, Student Affairs Secretary, Al Amin Timam
, Volunteer Engagement Secretary, A K M Nurul Alam Sumon.
The event was not only a celebration but also a platform for strategic discussions, aimed at cultivating a robust network of IT Infrastructure professionals to contribute to Bangladesh's advancement.
Following the proceedings, EC members enjoyed a fellowship dinner, capping off a productive and promising day for BDSAF's growth and development.